Schneider Electric / Square D S29386 Powerpact® Shunt Trip; 110/130 Volt AC
Vendor:

Square D by Schneider Electric

Price

Cat #:

S29386

$588.18

Part#:

122866

SKU:

180118

UPC:

785901712282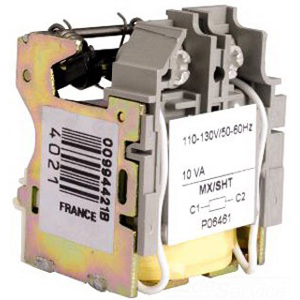 *Images are representative of products listed and may not be actual product.
Schneider Electric / Square D S29386 Powerpact® Shunt Trip; 110/130 Volt AC
Product Details
| | |
| --- | --- |
| • | Trips the circuit breaker when the control voltage rises above 70% of its rated voltage |
| • | Tripping by the shunt trip or underVoltage trip has priority over manual (or motor operator) closing, in the presence of a standing trip order such an action does not result in any closing, even temporarily, of the main contacts |
| • | The circuit breaker must be reset locally after being tripped by shunt trip (MX) |
| • | AC shunt trips are suitable for ground-fault protection when combined with a Class I ground-fault sensing element |
| • | Impulse type 20 ms or maintained control signals |
| • | Endurance is 50% of the rated mechanical endurance of the circuit breaker |
| • | Clearing time- Less Than 50 ms |
| • | A voltage release can be used to trip the circuit breaker using a control signal |
Schneider Electric / Square D Powerpact® Standard Electric Circuit breaker shunt trip has voltage rating of 120 VAC and power rating of 10 VA. It accommodates wire size of 18 TO 14 AWG copper wire lead connection. Circuit breaker has field mounting with AC voltage rating of 110/130 V. It can be used on powerpact[T] H/J/L frame molded case circuit breaker. It is UL listed.

Please note: The shunt trip relay needs a separate 120 VAC power source to energize the coil. The relay does not plug into the line voltage of the breaker.
Product Specifications
| | |
| --- | --- |
| AC Voltage Rating | 110/130 V |
| Application | For Use On H, J And L-Frame Circuit Breakers |
| Catalog Description | Circuit Breaker Shunt Trip Standard Circuit Breakers, 130VAC, Used With: Molded Case Circuit Breaker |
| Catalog Number | S29386 |
| Commodity Code | 3230 |
| Connection | Terminal |
| Country of Origin | FR |
| EU RoHS Indicator | Y |
| Frame | H/J |
| GTIN | 00785901712282 |
| Gross Weight | 0.290 |
| In Stock | Yes |
| Invoice Description English | CIRCUIT BREAKER SHUNT TRIP 110-130V AC |
| Item | Shunt Trip |
| Mfr/Vendor | Square D by Schneider Electric |
| Power Rating | 10 VA |
| Select Code | DISTRIBUTION EQUIP |
| ShortDescriptionStripped | Schneider-Electric-Square-D-S29386-Powerpact-Shunt |
| Special Features | Molded Case Circuit Breaker 110/130VAC |
| Standards | UL Listed, IEC Rated, RoHS Compliant |
| Sub Brand | Powerpact® |
| Type | Standard |
| UPC | 785901712282 |
| Used On | H/J Frame Molded Case Circuit Breaker |
| Voltage Rating | 110/130 Volt AC |
| Wire Size | 18-14 AWG Stranded (Copper) |
| description | SQD S29386 CIRCUIT BREAKER SHUNT TR |
| feature#1 | Standard |
| feature#2 | 110/130 V Ac Voltage |
| feature#3 | Power Rating 10 Va |
| feature#4 | Used On Powerpact[R] D/H/J Frame Molded Case Circuit Breaker |
| feature#5 | Impulse type 20 ms or maintained control signals |
| feature#6 | Endurance is 50% of the rated mechanical endurance of the circuit breaker |
| feature#7 | Clearing time- Less Than 50 ms |
| feature#8 | A voltage release can be used to trip the circuit breaker using a control signal |