Ilsco LDA-112-350 Snapbloc® Dual Rated Power Distribution Snap Block; 600 Volt, 310 Amp
Vendor:

Ilsco

Price

Cat #:

LDA-112-350

$83.15

Part#:

87886

SKU:

256471

UPC:

783669595413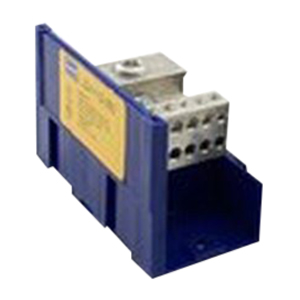 *Images are representative of products listed and may not be actual product.
Ilsco LDA-112-350 Snapbloc® Dual Rated Power Distribution Snap Block; 600 Volt, 310 Amp
Product Details
| | |
| --- | --- |
| • | Lexan® insulating base, Lexan® is a registered trade mark of the general electric company |
Ilsco Snapbloc® Dual rated power distribution snap block features 6061-T6 aluminum alloy construction for high tensile strength. It has electro tin-plated finishing for corrosion resistance/durability and Lexan® insulating base for convenience. It has a voltage rating of 600 Volts and current rating of 310 Amps. It can withstand a temperature rating of 90 deg C. It has one ports/conductors and can accommodate main/primary conductors of size 350 kcmil - 6 AWG. It has 12 ports/conductors and can accommodate tap/secondary conductor of size 14 - 4 AWG. It is suitable for use with copper and aluminum conductors. Block is UL listed and CSA certified.


Product Specifications
| | |
| --- | --- |
| Alternate Part Number | LDA112350 |
| Amperage | 310 A |
| Amperage Rating | 310 Amp |
| Application | For Copper And Aluminum Conductors |
| AttachmentURL | HTTP://WWW.ILSCO.COM//TECHNICALDRAWING//M4017.PDF |
| Catalog Description | ILSCO; SnapBloc; SNAP BLOCKS UL: LDB; Application:TAP CONNECTOR; Standard:CSA File Number: LR-29601; UL Specifications: UL 1059; Amperage Rating:Per Pole: 310 AMP; Voltage Rating:600 V; Conductor Range (Tap/Secondary):4-14 AWG; Color:BLUE; Material:AL; Conductor Range (Main/Primary):Primary: 350 kcmil-6 AWG; Hex Size Primary: 3/8 MM OR IN; Hex Size Secondary: S MM OR IN; Number of Ports Per Pole Primary: 1; Number of Ports Per Pole Secondary: 12 |
| Catalog Number | LDA-112-350 |
| Color | Blue |
| Commodity Code | 6132 |
| Conductor Material | Copper/Aluminum |
| Conductor Range (Main/Primary) | 350 KCMIL-6 AWG |
| Conductor Range (Tap/Secondary) | 14-4 AWG |
| Connector Material | Electro Tin Plated 6061-T6 Aluminum Alloy |
| Country of Origin | USA |
| Cover Type | Clear |
| EU RoHS Indicator | Y |
| Finish | Electro Tin-Plated |
| GTIN | 00783669595413 |
| Gross Weight | 1.804 |
| Invoice Description English | AL MECH (P)350-6 (S)4-14 T URCSA |
| Item | Power Distribution Snap Block |
| Material | 6061-T6 Aluminum Alloy |
| Mfr/Vendor | Ilsco |
| Model | LDA |
| Number Of Conductors/Ports (Main/Primary) | 1 |
| Number Of Conductors/Ports (Tap/Secondary) | 12 |
| Number of Secondary Openings per Pole | 12 |
| Primary Opening Wire Size | 6 AWG to 350 Mcm |
| Secondary Opening Wire Size | 14 to 4 Awg |
| Select Code | GROUNDING/TERMS/LUGS |
| ShortDescriptionStripped | Ilsco-LDA-112-350-Snapbloc-Dual-Rated-Power |
| Special Features | Features: {Snapbloc%XAE offers a modular design that is easy to assemble.} {Lexan%XAE insulating base. Lexan%XAE is a registered trademark of the General Electric Company.} {Easy to assemble.} {LDAU, LDBU are tested to UL 1953 .} {LDA,LDB are tested to UL 1059 90%XDD C 600 Volts and are CSA Certified.} {UL Assigned Short Circuit Current Rating (SCCR) 10,000 Amps.} {Connector manufactured from Electro-tin plated 6061-T6 aluminum alloy.} {LDA,LDB come complete with clear cover.} {LDAU, LDBU do not have cover.} {Multiple conductor capability.} {LDA's, LDAU's are added to LDB, LDBU to obtain a multi Pole Block.} {Convert LDA,LDAU to LDB, LDBU by adding LDS-1 Side Plate.} {Dual Rated for Copper and Aluminum Conductor.} {LDAU, LDBU UL File E112158} {LDA, LDB UL File E84782}; Hex Size Primary: 3/8 MM OR IN; Hex Size Secondary: S MM OR IN; Number of Ports Per Pole Primary: 1; Number of Ports Per Pole Secondary: 12 |
| Standard | CSA File Number: LR-29601; UL Specifications: UL 1059 |
| Standards | UL Listed, CSA Certified |
| Sub Brand | Snapbloc® |
| Temperature Rating | 90 deg C |
| Type | Dual Rated |
| UPC | 783669595413 |
| Voltage Rating | 600 Volt |
| description | ILSCO LDA-112-350 AL MECH (P)350-6 |
| feature#1 | Lexan® insulating base, Lexan® is a registered trade mark of the general electric company |