Fluke AC220 SureGrip™ Small Alligator Clip Set; Red/Black
Vendor:

Fluke

Price

Cat #:

AC220

$45.00

Part#:

75197

SKU:

681056

UPC:

095969103398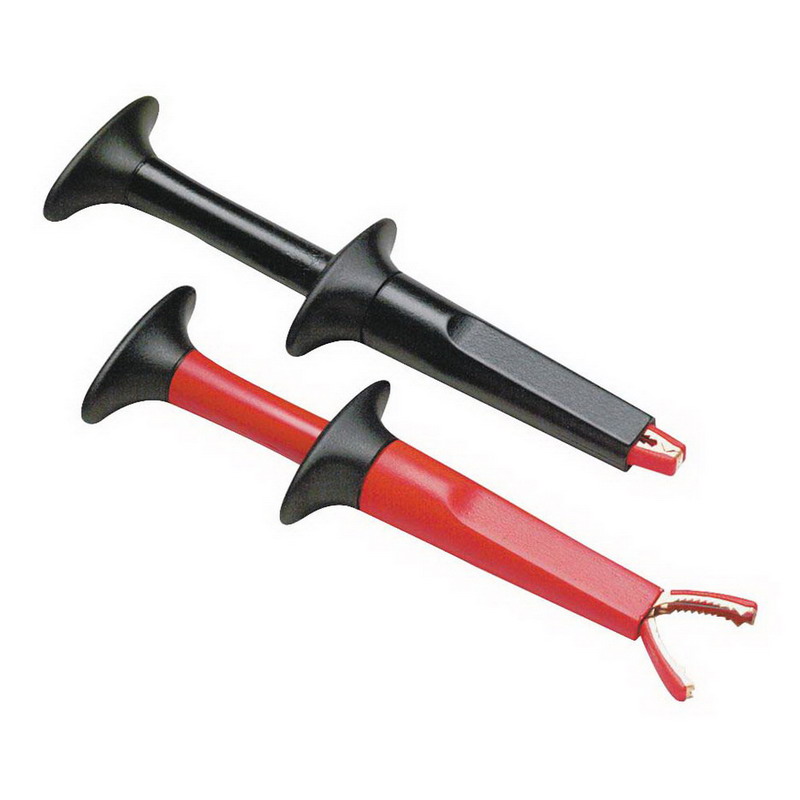 *Images are representative of products listed and may not be actual product.
Fluke AC220 SureGrip™ Small Alligator Clip Set; Red/Black
Product Details
| | |
| --- | --- |
| • | One pair (red, black) of small, insulated, nickel plated jaws |
Fluke® SureGrip™ Alligator clip set in red/black color is designed to assist in measuring electrical quantities on live wire terminals. It is compatible with TL222 and TL224 series test leads. Alligator clip has rubber over molded surface and finger hugging curve design for better handgrip. Clip is insulated to avoid electric shock during connection. It has nickel-plated jaw to hold 9.5 mm round screw heads. It has 10 Amps current carrying ability. Alligator clip design is CAT III 1000 Volts and CAT IV 600 Volts rated for safer operation.
Product Specifications
| | |
| --- | --- |
| Additional Information | Spring Loaded, Insulated Jaws, 3/8" Opening |
| Agency Approvals | UL |
| Alligator Clip | Yes |
| Alternate Part Number | 1610103 |
| Amperage | 10 A |
| Amperage Rating | 10 Amp |
| Application | For Fluke-TL222, Fluke-TL224 Test Leads |
| Brand/Series | SureGrip| |
| Catalog Description | SureGripn++ accessories are designed to improve steadiness in slippery hands. Rubber overmolded surfaces and finger-hugging curves give the user a comfortable, reliable grip on the accessory so they can focus on making an accurate measurement. |
| Catalog Number | AC220 |
| Clip Type | Test Lead Heavy Duty Alligator |
| Color | Black/Red |
| Commodity Code | 66410 |
| Competitor Part No. | FLUAC220 |
| Contact Material | Nickel Plated |
| Contact Plating | Nickel |
| Contents | (2) Clips |
| Country of Origin | UKN |
| Current Carrying Capacity | 10 |
| Current Rating | 10 A |
| Current, Rating | 10 A |
| EU RoHS Indicator | U |
| Electrical Rating | Cat III, 1000V 10A |
| Equipment Type | Alligator Clips |
| For Use With | TL222 and TL224 Test Leads |
| GTIN | 00095969103398 |
| In Stock | Yes |
| Insulation | Rubber |
| Insulation Color | Red, Black |
| Insulation Material | Rubber |
| Insulation Type | Insulated |
| Invoice Description English | SUREGRIP ALLIGATOR CLIP |
| Item | Small Alligator Clip Set |
| Item Number | 1610103 |
| Manufacturer Series | None |
| Mating Test Leads | TL222, TL224 |
| Measuring Circuit Category | CAT IV 600 V, CAT III 1000 V, 10 A rating. UL listed |
| Mfr/Vendor | Fluke |
| Plug-In Technique | Plug-in |
| Primary Type | Clips |
| Product Category | Test Clips |
| Rohs | Details |
| Select Code | HAND/PWR/MEAS TOOLS |
| ShortDescriptionStripped | Fluke-AC220-SureGrip |
| Special Features | Alligator |
| Standard | CAT IV 600 V, CAT III 1000 V, 10 A rating. UL listed |
| Standards | Conforms To EN61010-1, UL Listed |
| Sub Brand | SureGrip™ |
| Type | SureGrip alligator clips |
| UPC | 095969103398 |
| Used On | TL222/TL224 Test Lead |
| Voltage Rating | 1000 Volt CAT III, 600 Volt CAT IV |
| Voltage, Rating | 600, 1000 V |
| description | FLK AC220 SUREGRIP ALLIGATOR CLIP |
| feature#1 | One pair (red, black) of small, insulated, nickel plated jaws |
| feature#2 | Blunt tip grabs round screw heads up to 9.5 mm |
| feature#3 | Recommended for use with TL222 and TL224 test leads |